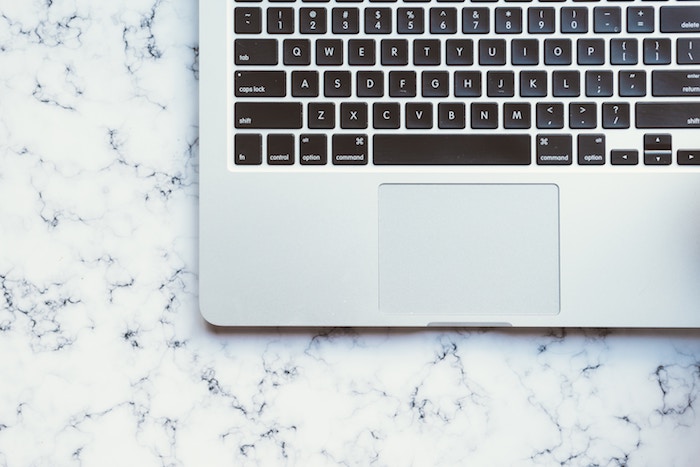 By Elinor Cohen, Search Engine Optimization Expert
I love my esthetician. Love. She has amazing hands and is super experienced in her domain. I go to her once a month to get a facial, and I will forever be a loyal client. However, I actually first sought her services as a massage therapist. I was searching online, desperately needing to find someone who will help me with my lower back pain. I then discovered, during our first session, that she is also a very experienced esthetician. I would have never known that, had I not come to her for my lower back pain.
The Small Business' Online Dilemma
During a recent session, I asked her a simple question. Because I help small businesses gain more visibility and generate clients online, I was really interested to learn how she gets new clients. She said, "I have been working in this area for over 15 years, and so I have a lot of referrals from dermatologists and from existing clients". I asked, "Do you get a lot of new clients through your website for skin therapy?" She said that most of these types of clients come to her for massage. Unfortunately, this is the case with most small businesses. Most of them build a website, a small presence online, but do not go beyond that. They may have extended their offerings and an amazing solution to many people's problems, but people do not know they exist. For this particular practitioner, it may be working well, because she has been in business for a long time and has established herself in her local area. But think of all of the missed opportunities to help those who might need her service? How does a new practice, and one that is trying to establish a client base today, show up when a potential client needs help?
Your Customers are Looking for you!
Today, everyone 'Googles'. Google, as a search engine, processes approximately 40,000 search queries per second. Everyone is looking for help online today, and just because you have a website, it does not mean they will find you. The fact is that today, you have to integrate a process of becoming visible online into your business activities, because everyone is online – looking for information, products and service providers in their locality. You can see a real-time visualization of Google search queries here.   Do you want to miss out on this large-scale "searching" opportunity? Probably not. So what does this all mean and how can you make sure you are found at the right moment, when someone is searching for your services or products online?
Optimize your Website, for an Optimized Business
Enter search engine optimization or SEO.   A lot of people have an aversion to this term, thinking that it entails some shady, inner-workings of the world wide web.   Others are shocked when I tell them that just because a website appears at #1 for a certain keyword, it does not mean it is the best one – there was someone optimizing it in order for it get to #1. Mostly, however, people have heard the term 'SEO', know they should find out more about this subject, yet are too busy and overwhelmed to deal with a topic they deem too technical or complex to integrate into their daily activities. This is not the case. Not at all. To put it in simple terms:
Search engine optimization is the process of increasing your visibility in the organic search results (rather than paid search results), so that you can increase the organic traffic coming to your website, thereby generating new customers as well.
Keep the following in mind:
SEO is all about optimizing your visibility around the web so that your customers can find YOUR valuable solution to their pain points.
SEO is all about marketing via words and phrases, which describe your business, offering, content and solutions.
SEO is all about structuring your information in a way that is easy for a person and a search engine to understand.  In fact, if a 5 year old doesn't understand your website, neither will a search engine.
See the image below, which explains the simple anatomy of a search results page: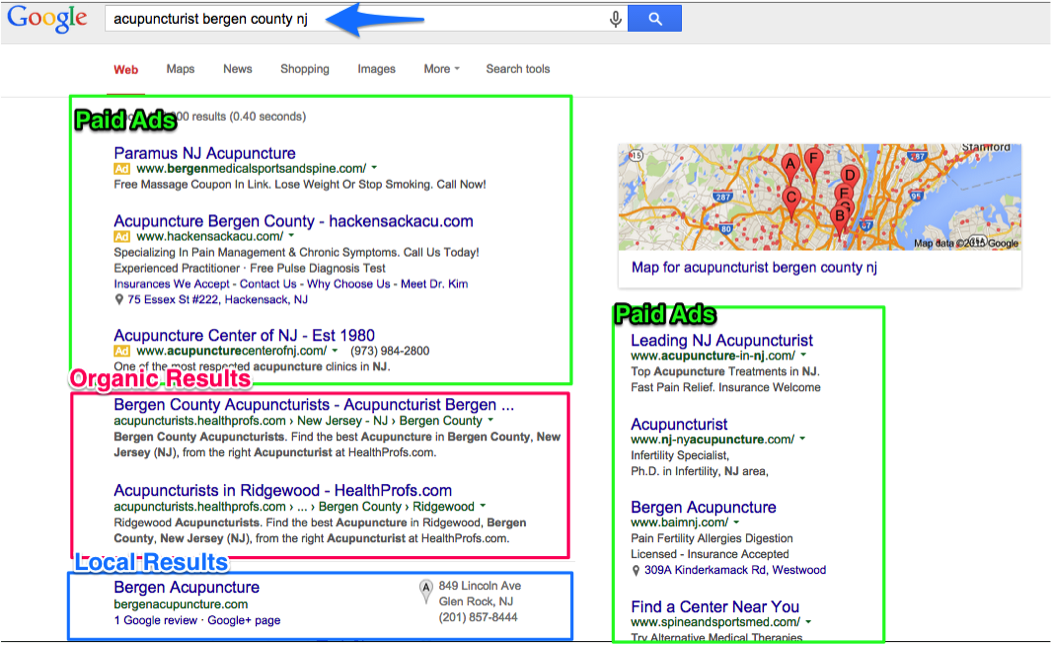 Note the organic results are results for general businesses, while local results are those for registered businesses in Bergen County, NJ, for the search query 'acupuncturist Bergen county NJ'. If you are a local business, or trying to develop a national brand for yourself, you will definitely want to start optimizing your website to appear in the red and blue areas.
This Looks Awesome. Where should I Begin? Two Words. Google Plus.
            This is the easiest place for you to start.   Google plus is a social platform, much like Facebook, which has been gaining a lot more traction in the past couple of years in terms of active users. Since this network is a property of Google, it would only make sense that it would scan its properties first in order to decide which website show up in search results and which should not. And so, this is absolutely the case.   Not only can you open up a Google Plus account, but you can also open up a Google My Business Page which will contain your address, connect you to a specific business category (this helps immensely in search results), and where your customers can rate you. Imagine, searching for a therapist, seeing their search result with a lot of 5-star reviews – would that make you want to call them? See example below:
Going back to my massage therapist example: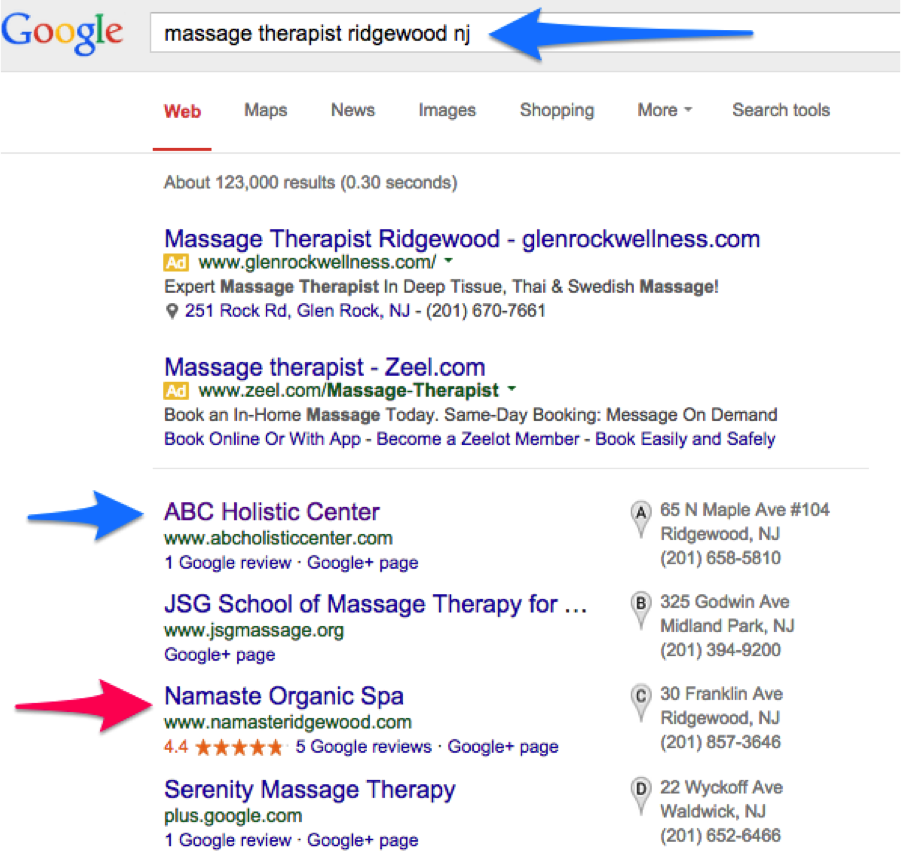 ABC Holistic Center appears at #1 in local search results for the query "massage therapist ridgewood, nj". But if you look at Namaste Organic Spa, it appears at #3 for massage therapy, but also at #2 for the query 'facials ridgewood nj"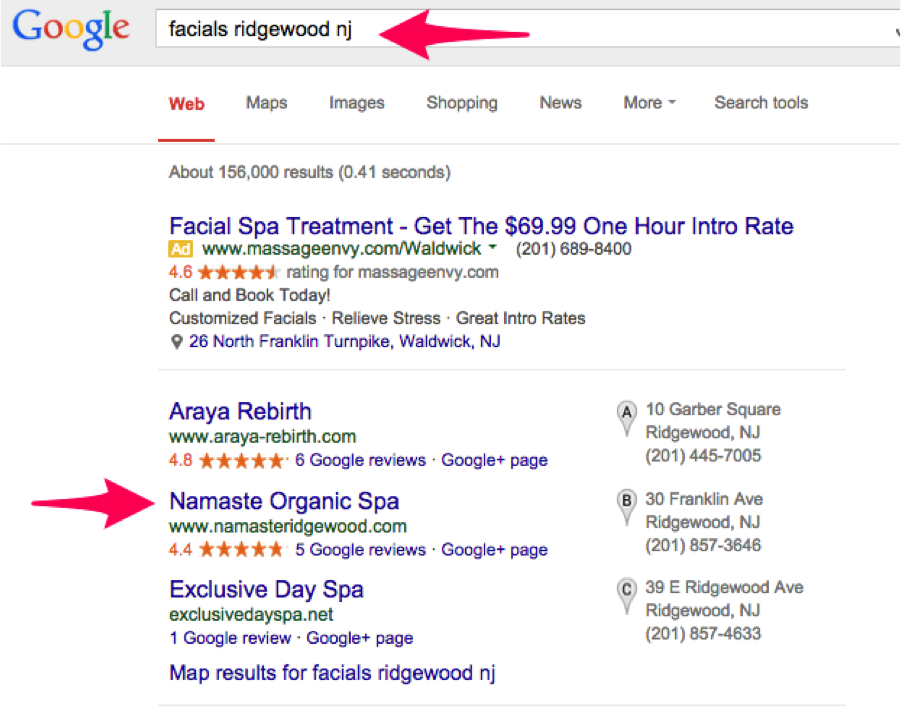 Namaste Organic Spa did a great job at managing their brand, by making sure it is displayed for multiple services. So, go to Google My Business, open up a business listing with Google and a Google Plus Page to move your website towards a path of search visibility and ultimately SEO Success!
Before Going any Further, Here are some Things to Note:
Make sure your address and phone number are clearly displayed on every page of your website (if you are a local business). Then, make sure to replicate this in the same exact manner in your profile.
When you create a Google Business account, it will automatically create a Google Plus Account for you as well – make sure they are similar in look and feel (profile picture, header image, tagline about your business).
Add as many categories as possible that are related to your business in your Google business profile.
Make sure you website's title contains the keyword that is most important to your business. For example, if you are an acupuncturist, people may search for you by name or by your specialty. Make sure your homepage title and the content in the body of the page include your name, specialty and locality (ie. John Smith – Acupuncture for Weight Loss in New Jersey)
Do not forget to update the about section of your new profile and add a link to your website.
After you set up your page(s), Google will send a verification code to your physical address, where you will enter a code in order to verify your account.
Once your account is live, ask your happy customers to write a review about you by searching for your business on Google Maps and writing a review about your business. You will appear in search results with those golden stars!
If you are interested in a step-by-step mini e-book that will guide you through 7 simple action steps you can take RIGHT NOW to get your content Discovered by Google, please visit my site: www.justmecompany.com.
About the Author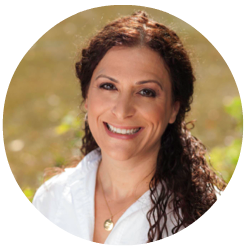 I founded The Just Me Company in order to help you intelligently take control of your customer acquisition strategy, guide you while you attract customers to your site, so that you will have a clear understanding of how digital marketing works. After a 9 year journey of hands-on work in SEO, Paid Search, Social Media and Email Marketing for others, I have decided to take all of this knowledge in order to teach soloprenuers how to manifest their businesses online in the same way.
I'm here to help the Business of YOU take a leap forward and become search-savvy and smarter about your website. I am currently working on several group coaching programs to help business owners learn the ins-and-outs of search engine marketing and social media.
I am here to hold your hand and walk you through on how to optimize your digital footprint step-by-step! Please visit my website: www.justmecompany.com for more information or email me with any questions at: Elinor@justmecompany.com
Hope to see you in search results soon!
Xx,
Elinor  Cohen