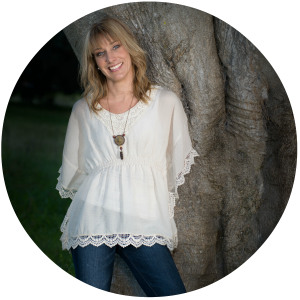 After a series of life events which led her to the conclusion that her 9-5 was no longer the right path for her, Stacey found her passion in Holistic Kinesiology and went on to pursue training in this field and the field of Mind Body Medicine. She now works with her clients with these modalities to help bring them back to balance – physically, mentally, emotionally and spiritually. Her interview inspires us to focus not on what we "should" be doing but on where our passion lies so that our business can grow organically.
What inspired you to become a holistic entrepreneur?
It was a synchronicity of events (isn't it always!). I was not happy in my corporate job at the time, had been having a long distance relationship of sorts that ended and overall intuitively felt that something had to change as 9-5pm in an office didn't feel right to me. This lead me to a session with a kinesiologist and within 2 sessions I knew that was something that I wanted to know more about and went on to study Holistic Kinesiology and Mind Body Medicine which of course opened up the doorway to a wealth of knowledge and opportunities.
Tell us about your business or practice.
My business is still very much in the "toddler phase" stage I guess I would call it. The more knowledge I acquire, the more I delve into exactly what this business is to me and what services I resonate with offering to clients. Primarily, it has been focused on Mind Body Medicine and using Holistic Kinesiology as a modality to work with clients. This is a face to face, hands on modality using the client's body to help facilitate them to bring themselves back to balance, physically, mentally, emotionally and spiritually. Much of the work involves education, sharing knowledge and working with energy.
I'm now also hosting workshops and have brought the Desire Map (I am a licensee) into these as well as client sessions with amazing insights and results.
What is your current business model? 
Currently I have been working 1:1 with clients and hosting workshops. I am in the process of creating virtual sessions and workshops with a view to expanding this into e-courses as well over time.
What has been one of your favorite moments as a business owner thus far?
The "a-ha" moments on clients faces when they make that connection, gain that insight or see/feel/sense the change. It's rewarding to be able to share that with them. I received a text from a client who was going for her license 'finally' in her late 30's and having done a lot of base chakra work and telling her to put her 'ass on the grass' and wear red underwear to help bring this back into balance and ground her, the photo of the smile on her face when she got that license and added that she had her red underwear on absolutely was a favourite moment!
What are some of the biggest challenges you have faced in running your business or practice?
Time! I am still working in a corporate job whilst growing my business so time can be challenging (and having enough energy some days!) but the more wins and achievements that come, the more the time becomes a priority.
How have you overcome those challenges?
Being focused on the to do list, putting the task in the calendar and holding myself accountable to it (sometimes that can be a WIP!). I have also enrolled in B-School and other online programs to help with driving me towards my goal which motivates me to keep aiming for the stars.
How do you find new clients?
Many of my clients have been referrals due to the nature of the work. Word of mouth is the best advertising I find in a healing / energy based modality. I am focusing more on networking and collaborating this year and while the online presence will be a focus, initially the WOM and networking I believe are the best avenues for me.
What have you found to be most effective in securing new clients to sign up for your services?
Answering their queries specific to their needs. I am not going to be the right facilitator or practitioner for everyone, but by taking the time to speak to a client or answer their email in detail and ensuring I understand what it is they are looking for, this often secures them booking a consultation as they feel and know they have been heard.
What do you do to keep your existing clients engaged in the long term?
Being a newer business, I haven't focused on this strategy as much yet but I have plans for newsletters, Vlog and online information sessions and workshops in the future that will keep touch points with them.
As your own boss, what is your best strategy for staying focused and productive during your workday?
For me, this varies depending on what I am doing. If I am in consults with clients, it's easy to stay focused as my energy and attention is on them and with them during that session. If it's more of an administration based productivity, working during my peak time (I am more creative in the afternoon and evenings) and having a to do list can help. Staying focused for me involves being disciplined to not get distracted so that can be going 'offline' or working offsite or in a private office space. I'm fortunate I've always been task driven I guess in corporate work and that skill is transferrable.
If you could start your business over again from the beginning, what would you do differently?
Start earlier! Spend more time really feeling my way around what I wanted to do rather than getting caught up in the title and academic knowledge I'd acquired. Once I let myself out of my preconception on what I 'should' be doing and have allowed it to naturally grow, so too has my passion for what the business and what is ahead.
What were some of the first mistakes you made that you would tell a new holistic entrepreneur to avoid?
I'm not so sure I would say I have had mistakes as much as lessons so far. Don't put pressure on yourself to find your niche (if you don't already have it) if it hasn't come naturally to you yet. The more you build your business and practice, the clearer this will become. Overcome limiting beliefs, it's amazing the excuses we can come up with when we start to focus on building our own business and wealth and move out of the safety zone. Also, you won't be the right business or practitioner for everyone! Being able to know the type of clients or customers you want will make working with them much more enjoyable.
What are the top three business tools or resources you couldn't live without?
Internet – enough said really!
Phone/Computer – communication is the key
Mentor/Colleagues/Advocates – these resources help to bounce things off, debrief, push me further and also sell my services
What has been your most effective method for growing your business?
Networking, existing clients and talking about what I do to the right people at the right time. Not necessarily the most strategic method to date, but when dealing with people as a facilitator and practitioner, it truly is the personal factor that engages new clients. The focus to grow via online, education, communication and other strategies is this year's business plan (hence B-School!)
What is the craziest thing you've ever for done for your business?
I work with energy – nothing seems crazy anymore!
What is your favorite indulgence?
Travel….can that be called an indulgence? It really feels more like a life necessity that ALSO feels like indulgence
Most exotic thing you've ever eaten?
Hmmmmm frogs legs or snail maybe?
Most memorable place you've ever visited?
There is too many but a piece of my heart is definitely in NY as so many memorable experiences when there.
Last book you read?
Reading Paulo Coelho "Accra" currently, nearly at the end
If you could only have one kind of food for the rest of your life, it would be…
My Oma's German cooking
What is your go-to breakfast?
I change what I have for breakfast daily! I like to flow with what I feel like day to day.
What do you find most fascinating about the human body?
All of it but given I did psychology at uni, the mind has always been intriguing to me.
What do you love most about being an entrepreneur?
The potential is limitless and so too can be the freedom and lifestyle choices when it all comes together.
Stacey Bout is a Mind Body & Life Facilitator (Holistic Kinesiologist) based out of Sydney, Australia. You can find out more about Stacey and her business, Infinite Balance Kinesiology, by visiting www.infinitebalance.com.au.