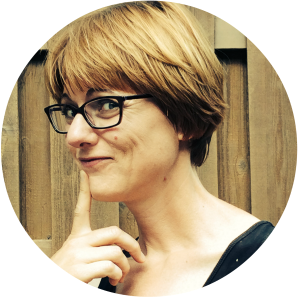 After experiencing her own health crisis, Rachel realized the value of a holistic approach to health care. She now serves as an Integrative Nutrition Coach to help others make healthy living easy, fun and delicious. Her interview inspires us to dive into practicing our work without letting our proverbial ducks in a row stop us and to get over our fear of committing to a specific target market.

What inspired you to become a holistic entrepreneur?
I was inspired to become a holistic entrepreneur after I went through my own health crisis and realized that healing is a whole person experience, not something that can be solved by taking a pill.
Tell us about your business or practice.
I am an Integrative Nutrition Coach who makes healthy living easy, fun and of course delicious! I work with women who are overwhelmed with all of the health information out there and coach them to take sustainable steps towards a healthier life.
What is your current business model?
I currently offer private coaching, group classes and an online membership community.
What has been one of your favorite moments as a business owner thus far?
One of my favorite moments has been speaking to a large group of women and hearing the positive feedback, being recommended to other groups.
What are some of the biggest challenges you have faced in running your business or practice?
One big challenge has been getting people to commit to private coaching when they are just getting to know me. That is a big commitment for someone to make.
How have you overcome those challenges?
I have overcome this challenge by offering lower price point opportunities. This is great because I can help more people this way and they get a chance to experience working with me before they dive into private coaching.
How do you find new clients?
I find new clients by speaking to groups, teaming up with other professionals for events and networking. I also send a weekly newsletter and post on social media.
What have you found to be most effective in securing new clients to sign up for your services?
I have offered a bonus that expires 48 hours after we talk.
What do you do to keep your existing clients engaged in the long term?
I have created an online community that clients can stay engaged in at a low price point.
As your own boss, what is your best strategy for staying focused and productive during your workday?
I printed off a blank weekly calendar and filled it in with my business week. I have it posted by my desk.
If you could start your business over again from the beginning, what would you do differently?
Not spend so much time worrying about what my message to the world is and just get out there and do it. The message will take shape and grow with experience.
What were some of the first mistakes you made that you would tell a new holistic entrepreneur to avoid?
Don't be afraid to pick a target market/niche. You can always refine as you go but people need to know what to come to you for, what you are the expert on. Also give people one choice, I have sent a lot of confusing messages with several call to actions. Pick one outcome for each newsletter, speaking event etc. and hone in on that.
What are the top three business tools or resources you couldn't live without?
Online scheduler(Timetrade), newsletter service(mailchimp),
What has been your most effective method for growing your business?
Getting in front of more people-consistently. One time doesn't do much but consistent effort over time pays off.
In building your business, was there any specific mistake you made, "oops!" moment, or "I can't believe I did that!" time that you look back and laugh at now?
Once in a cooking class I sliced my finger open. It was gross! They bandaged it and I kept going and it bled out of the bandage into the food. Since then I prep everything that needs cutting beforehand!
What is your favorite indulgence?
Going on long bike rides when I should be working, either that or dark chocolate;)
Most exotic thing you've ever eaten?
I don't know about exotic but last summer I discovered Garrets popcorn in Chicago and have drooly dreams about it. Not a very "health coachy" thing but it was that good!
Most memorable place you've ever visited?
Yes that would be Chicago. My husband took me there on our honeymoon and we've been back several times over the past 20 years. It's probably as much being away with him as the place.
Last book you read?
My reading list is determined by my teens so I just finished Scorch Trials and have started the Death Cure.
If you could only have one kind of food for the rest of your life, it would be…
Leafy greens are the best thing for my body!
What is your go-to breakfast?
Chia bowl with coconut milk, walnuts and banana.
What do you find most fascinating about the human body?
How it responds to what we do, affected by our mood, thoughts, as well as what we eat.
What do you love most about being an entrepreneur?
I love using my passion to help others and fitting that around my family life.
Rachel Almstedt is an Integrative Nutrition Coach based out of Kansas City, MO. You can find out more about Rachel and her business, Pray Live Eat, by visiting www.prayliveeat.com.