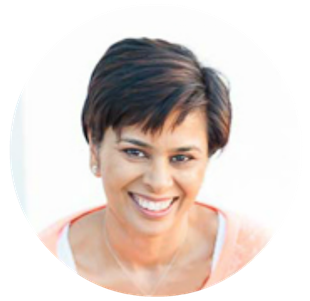 After going through her own cancer diagnosis nearly 10 years ago, Prabha became passionate about nutrition as a way to prevent illness. She now helps busy women with their own health challenges and goals by providing sustainable changes that become life-long solutions.
What inspired you to become a holistic entrepreneur?
I became interested in health and disease prevention when I was diagnosed with mouth cancer in 2006. I started to look at ways I could improve my health and that's where my fascination and obsession with nutrition began. I also realised that many of the things I had been doing for years because I thought it was best for my health, were not necessarily the best things for me and that there were so many people like me out there – misinformed and confused. So I started to share what I had been learning and researching with others in the hope that I could help them avoid ill health.
Tell us about your business or practice.
I help busy women identify their health goals and put together plans and strategies to help them reach their goals in a way that they can easily integrate into their lives so that they make life long changes. I love working with women because when women know how to take charge of their health and well-being and have more energy and vitality, they create a ripple effect. They bring positive changes to their family, friends and communities.
What is your current business model?
I have a mixture of services, I provide 3 and 6 month 1 to 1 coaching either in person or over the phone or Skype. I also have self guided programmes available.
What has been one of your favorite moments as a business owner thus far?
Just seeing clients telling me how much better they feel and how they have managed to make changes that they can stick to.
What are some of the biggest challenges you have faced in running your business or practice?
Finding time to do everything.
How have you overcome those challenges?
Learning let go of some things by outsourcing activities such as admin. I also use a weekly schedule. I plan my coming week on a Sunday to make sure I get the important things done and not get overwhelmed.
How do you find new clients?
I network a lot. I have found a handful of networking groups that work for me and I attend those regularly so that I build relationships with other attendees and as a result they are more likely to use my services and they feel happy to refer me to others.
What have you found to be most effective in securing new clients to sign up for your services?
I do an initial free discovery session with people and that is when we look at areas that I could help them with. During these sessions I am 100% present so that the person feels safe and heard. If they feel they can trust me they are much more likely to want to work with me.
What do you do to keep your existing clients engaged in the long term?
I use Facebook, my blog and also newsletters.
As your own boss, what is your best strategy for staying focused and productive during your workday?
Learning to say no to things that aren't on my schedule for that day (unless it's urgent). It brings a lot of clarity and you get much more done when you know exactly which tasks you need to tackle that day and it also means you are less likely to get distracted. Also being realistic about how much can be done, I think we can all have the tendency to pile too much on and then when we don't get it done we feel bad or guilty.
If you could start your business over again from the beginning, what would you do differently?
I would have had a much clearer picture of my ideal customer and communicated in a way that is much more congruent to my personality. For a long time I was very rigid in my communication style and looking back that looked so cold. I was afraid of adding my style and personality in case it didn't look professional.
What were some of the first mistakes you made that you would tell a new holistic entrepreneur to avoid?
Stop thinking you can help everyone and also know that you have everything you need too start helping people. It's easy for holistic entrepreneurs to think they have to learn more and get this certificate and that diploma before we can go out and do our work and before you know it you've spent years learning lots of interesting things but haven't put any of the things you've learnt into practice.
What are the top three business tools or resources you couldn't live without?
Evernote – it helps me organise articles that I want to come back to later or refer to in blogs etc.
Marie TV – she has an uncanny way of putting out a video that addresses issues or areas I'm feeling stuck in the most timely manner.
A good CRM system – I use one called Capsule. There are many good ones out there and some of them have good free versions too.
What has been your most effective method for growing your business?
Doing talks on health at local gyms or complementary therapy clinics, running free webinars and also attending networking events.
What is the craziest thing you've ever for done for your business?
Ooh, I've done a few crazy things but none for my business – yet!
What is your favorite indulgence?
Cake 🙂
Most exotic thing you've ever eaten?
Snail porridge
Most memorable place you've ever visited?
The Grand Canyon
Last book you read?
The War of Art
If you could only have one kind of food for the rest of your life, it would be…
Indian food – I can't live without spices
What is your go-to breakfast?
Avocado on wholemeal spelt toast
What do you find most fascinating about the human body?
The body's ability to heal itself
What do you love most about being an entrepreneur?
The freedom – living life on my terms.
Prabha Shiyani is an Integrative Nutrition Health Coach, Nutritionist & EFT Practitioner based out of London, UK. You can find out more about her and her practice, www.FlourishWell.co.uk.