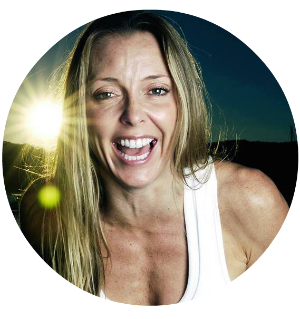 Knowing that there had to be more to life than doing something she wasn't passionate about, Kate followed what she loved and has now been practicing as yoga instructor and group fitness trainer for the past 13 years, and more recently as a Nutrition Therapist as well. Kate's interview inspires us to build our businesses with honesty and integrity and to never stop learning.

What inspired you to become a holistic entrepreneur?
I thought I had to have a "normal job" back in my late 20's. I used to dress up every day and travel to the city and pretend to be a personal assistant. I laugh as I say that because even though I was good at my job it was like I was dressing up and acting out a role everyday, as opposed to doing something that my heart desired.
SO that was when I made a conscious decision, I knew there had to be more in my life than just that.
I remember this day very clearly, I wrote a list of all the things I loved. I kept coming back to training/exercise, feeling fit and feeling the best that I could. I just knew at that moment that I had to share this with other people.
Tell us about your business or practice.
I have been a personal trainer and group fitness instructor and yoga instructor for the last 13 years.
My husband and I moved to Bali 2 years ago and it was at that point I decided I was burnt out. Even though I love my classes, teaching and my clients, teaching 30 classes + clients a week was just not realistic anymore. I was completely burnt out and tired.
I knew I needed to continue on my wellness path and went off and studied to become a Nutritional Therapist. Nutrition has always been my other passion, and even though I have always practiced it with my PT clients it was something that I always wanted to delve into in more detail.
I am now building my practice around Nutrition, body and yoga. I do practice here in Bali and am also building my business to be predominantly online. As my husband works on an oil rig, we move around every few years, and this is a great way for me to still stay connected in helping others pursue their goals of living a healthier and more wholesome lifestyle.
What is your current business model?
I provide one-on-one sessions for Nutritional Therapy, as well as Skype sessions. These are fully personalised assessments on Nutrition and any deficiencies or other health issues that the client may have.
I also provide full coaching sessions which are one-on-one, these include personalized nutrition + full training programs.
And lastly I am also working towards providing a 3-month membership program for clients. This is more general, but clients will be able to follow a Nutrition + training program together, including amazing tips, training and yoga videos + mentoring support from myself. This will be a fun one to look forward to.
What has been one of your favorite moments as a business owner thus far?
My all-time favourite moments are seeing all the results from my clients. I have been SO blessed to be able to work with some really wonderful people over the years. People have come to me to change their lives, and seeing them through that process and watching them transform into the best version of themselves is just such an honour. There has been a lot of laughter and swearing and tears but we have built some amazing foundations and friendships. Most of my clients I am still in contact with as they have continued on their journeys in various ways.
What are some of the biggest challenges you have faced in running your business or practice?
Some fun challenges I have had of late are making my business web based. Anyone that has done this will know some of the challenges that you face, and even though it is fun to let your creative juices flow, you can also get stuck on certain things for hours, trying to figure out programing and stuff like that.
I guess I am not generation Y… I always thought I was quite savvy when it came to computers and the internet but it is a whole new world out there!
How have you overcome those challenges?
I really love learning new things and at the moment I am trying to do everything myself. But I do have an amazing web guy here in Bali that can help me with all the things that I need help with.
How do you find new clients?
Mostly my clients have been word of mouth. I am hoping once I officially launch katevanhouten.com that it will open up a whole new world for my business and potential clients.
What have you found to be most effective in securing new clients to sign up for your services?
I find that if I am honest and real and practice what I preach, then clients see you for what you are and what your service is about. To me, this is the best way to build relationships with old and new clients alike. Honesty and Integrity!
What do you do to keep your existing clients engaged in the long term?
If my clients are on Nutrition programs with me then it is all about variety, easy meal plans and interesting new recipes, mostly too they are coming to me for a health issue, weight loss or getting back on track as well so it will usually be back to basics.
If it is coaching then I will change the training programs regularly to keep it interesting. And fun! It must be fun! We can't take ourselves too seriously!
As your own boss, what is your best strategy for staying focused and productive during your workday?
The first thing I do when I wake up is go and train! Exercise for me is the first and foremost of my morning routine – whether it be a cycle, a run, weights or yoga – this is where I clear my mind, create clarity and most of all energy for my day.
If you could start your business over again from the beginning, what would you do differently?
I feel I am exactly where I need to be right now. Hindsight is a wonderful thing, I guess there are so many things I could look back on and do differently but I would probably be here all day. So my yogi answer for that is embrace the moment as we are exactly where we need to be right now.
What were some of the first mistakes you made that you would tell a new holistic entrepreneur to avoid?
I don't think there are any mistakes, I would say follow your dream, don't let anyone tell you what you can and can't do. Don't let anyone put you down.
Know your stuff, never stop learning and always believe in yourself and if you come from a place that is wholehearted then that is all that matters. LOVE what you do and it will shine through!
What are the top three business tools or resources you couldn't live without?
I hate to say it but my laptop, my phone and my gut instinct!
What has been your most effective method for growing your business?
Word of mouth and living what I teach!
What is your favorite indulgence?
Anything sweet– sugar free and raw of course!
Most memorable place you've ever visited?
Trekking in Nepal was pretty amazing!
Last book you read?
Time Keeper by Mitch Albom
If you could only have one kind of food for the rest of your life, it would be…
Veggies from my garden
What is your go-to breakfast?
Sweet potato and zucchini omelet + green juice
What do you find most fascinating about the human body?
Everything! I think it is amazing how we can literally heal ourselves through nutrition and how our bodies function at a cellular level. We are such beautiful intricate beings!
What do you love most about being an entrepreneur?
I love being my own boss!
Kate Van Houten is a Nutritional Therapist, Body Coach and Yoga Teacher based out of Bali, Indonesia. You can find out more about her and her business at www.katevanhouten.com.