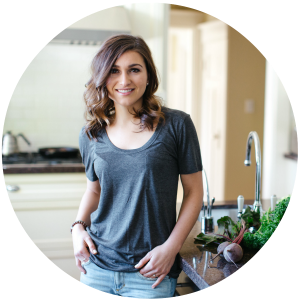 Ellie Shortt turned to the world of holistic health after a string of frustrating encounters in the allopathic sphere. Inspired by her own healing journey through the utilization of holistic approaches to medicine and whole foods, Ellie, a former journalist, became a Nutritional Therapy Practitioner and founded Whole Happy. Ellie now uses Whole Happy as a space for information sharing, works with clients in a clinical setting, delivers corporate workshops, provides cooking classes, and delivers grocery store tours and pantry sessions. Her interview inspires us to inhabit the paradigm we preach, and to keep the vision for our businesses clear in our own minds.
What inspired you to become a holistic entrepreneur?
Primarily my own wellness journey. Frustrated by the dead-ends I kept experiencing in the allopathic sphere, I began to explore alternative and holistic approaches to medicine as well as the power of food. Inspired by my own healing, I knew that I had to hone my knowledge and share that magic with others.
Tell us about your business.
Whole Happy is very multifaceted. At the core, it's a space for information sharing. I used to be a journalist so that's part of my essence and a major passion of mine. I share recipes, advice, resources, meal plans and guidelines, and general wellness inspiration. I also work one-on-one with clients in a clinical setting, teach cooking classes at a local cooking school, provide consulting for other food and wellness businesses, and give a number of workshops and lectures on a variety of food and health-based topics.
How would you describe your current business model? 
Two days a week I do one-on-one clinical consultations with clients and that can be structured in a variety of ways (one-off sessions, packages etc.). Usually once a week I do a cooking class, one or two days a week I do a public or corporate workshop, and the rest of the time I'm either doing grocery store tours, pantry sessions, and then when I can squeeze it in, developing recipes and writing blog posts to share on my website and via social media.
Is there a certain strategy you've found to be the most effective for growing your audience?
Because I already had lots of experience with public speaking and was quite comfortable with it, I began right-off-the-bat with free workshops and lectures. I would offer attendees discounts and specials for one-on-one consults, those clients would make referrals, and before I knew it, I had a full client list! Now of course, I charge a fee for workshops and lectures as they're a major focus of my business model, but offering them for free at the beginning really got my name out there.
What are some of the biggest challenges you have faced in running your business?
Time management for sure. I'm definitely a "yes person" so sometimes that means I bite off a bit more than I can chew and my schedule often reflects this. When your mind is in 100 different directions, it can be hard to compartmentalize and structure your weeks effectively. I often find myself getting distracted by an exciting new prospect at the expense of neglecting some over-arching goals. A big example of that is writing books, which has always been the aim with all of this, but it keeps getting pushed aside for more immediate opportunities.
How have you overcome those challenges?
I think I'm still figuring that out, but in a somewhat paradoxical manner, the more you say "yes" to and sign on for, the more you realize what you like, and what you don't like. Where you thrive, and where your efforts fall short. Through this process you can narrow your scope a bit more and consequentially hone your focus, and therefore your schedule.
How do you find new clients?
As mentioned above, workshops and lectures have been a big conduit for acquiring individual clients seeking more personalized guidance. I'm also very involved in my local community. I'm at both my gym and yoga studio 5-7 days a week, so people get to know my face and ask questions about what I do. I've also offered cross-promotional opportunities with those businesses (complimentary or discounted workshops, nutritional consulting deals if you're a member etc.). And then of course social media is incredible for exposure…IF you work it right! I take time to post quality content, well shot photos, and interesting videos, so that my audience is engaged, and feels that they can trust me. I find one of the best ways to use social media is to showcase your unique personality and assure followers of your authenticity.
What were some of the first mistakes you made that you would tell a new holistic entrepreneur to avoid?
I'm an eternal optimist, so I truly believe that making mistakes is part of the process and immensely important for your entrepreneurial journey. When I look back on a few of my "hiccups' I only see them as part of the foundation I've created that have gotten me to where I am now, and will get me to where I want to be in the future. But if I had to pick, I'd say stay on top of your bookkeeping. It sounds boring and cliché, but it's so important. And if you feel that it's too much for you, hire a professional!
What has been the best piece of advice you've received as an entrepreneur?
I'm big on affirmations, and visualization. You need to picture in your mind exactly what your success looks and feels like. Be detailed about those thoughts, and focus in on them daily. Deepak Chopra says, "To be successful in your chosen career or work endeavor, you must release any present karmic conditioning that declares, 'I can't do this.' You can!" I remind myself of that each day and won't even allow my mind to go into a space of "what if this doesn't work out." It will, because this is where I'm meant to be.
What is your morning routine?
I believe in embracing routine, but also challenging it to keep the body and mind sharp, so often I actually switch it up to keep things fresh. But currently, my Monday-Friday go-to is to wake up at around 7/7:30am, have a big glass of water maybe with some lemon, maybe with some apple cider vinegar, and then take my dog on a quick run (about 20 minutes). I don't listen to music on that run, and spend that time processing thoughts, feelings, and practicing intentional thinking. Once I'm home, I make my Whole Happy Latte (dairy-free milk, turmeric, cinnamon, nutmeg, clove, sea salt, fresh cracked black pepper, manuka honey, collagen powder, coconut oil, and either a shot of espresso or matcha), and then go for a cross-training workout. Following my workout, I do a couple hours of admin work (emails, blog posts etc.), while slowly savoring a thick green smoothie, and then I go to a yoga class, meditate, visualize, and affirm, before diving into a dense afternoon and evening of clients, workshops, or a cooking class. I find this routine incredibly grounding and nourishing, and it allows me to tackle a full and dynamic afternoon and evening that often has absolutely zero routine about it.
What is your favorite indulgence?
Nut/seed butter and dried fruit. It's a deadly combination so I try to eat it sparingly.
Most exotic thing you've ever eaten?
I would have said crickets, but that's all the rage now and in so many paleo-style protein bars, so I'll have to go with alligator jerky when I was Outback-ing in Australia many years ago.
Most memorable place you've ever visited?
I have the most intense wanderlust of anyone I know, so I find meaning and memory in almost every place my feet have touched. That being said, I just recently got back from Italy, and felt a profound connection to the Tuscan countryside and its historic hillside towns like Cortona and Sienna.
Last book you read?
I often read a few books simultaneously, so I'm going to have to list three: "The Little Book of Hygge" by Meik Wiking, "Beyond Training" by Ben Greenfield, and "You Can Heal Your Life" by Louis Hay (I've read that one many times, but I like to have it in steady rotation)
If you could only have one kind of food for the rest of your life, it would be…
This is a torturous question for a nutritionist/chef! I love variety and strange new flavors, but if I HAD to pick, I'd say salads. I know that sounds lame, but I eat them breakfast, lunch, and dinner, and never get sick of them (even in the winter, which is physiologically so odd, I know). You can also make salads pretty whacky and wild, which is my way around not answering this question to the fullest 😉
What is your go-to breakfast?
Usually a thick-ass smoothie bowl (baby lettuces/kale, purple cabbage, cucumber, avocado, coconut milk, chia seeds, collagen powder, pumpkin seed protein powder etc.), topped with a bit of dried fruit, some sprouted nuts and seeds, or grain-free granola. Or if I want something a bit more savory, I opt for a big breakfast salad (mixed greens, egg, sausage, roast veggies, sauerkraut, avocado etc).
What do you love most about being an entrepreneur?
Being able to have the freedom to live my life to its fullest potential and inhabit the paradigm that I preach. I love that every day is different, and I wake up each morning bursting with excitement over what the day might have in store. I also feel so grateful that I've been able to create a business that helps others reach their health and wellness potential and find their "whole happy" too.
Ellie Shortt is a Nutritional Therapy Practitioner and Chef based out of Victoria, British Columbia. You can find out more about Ellie and her business, Whole Happy, by visiting www.wholehappy.com