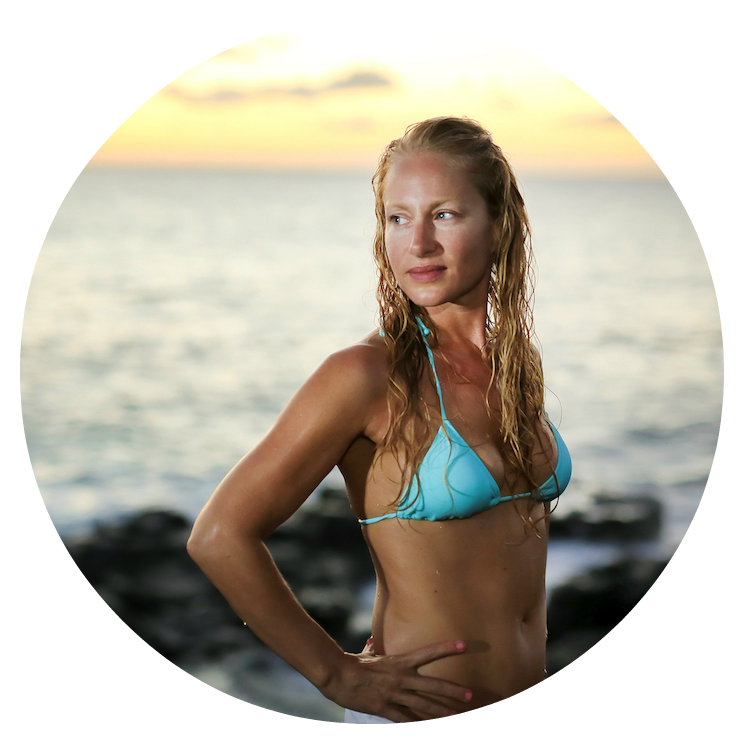 Elle Russ is the author of The Paleo Thyroid Solution and host of The Primal Blueprint Podcast, a top-20 ranked show in the Health Category on iTunes. Elle began her writing career in sketch comedy as an alumna of the world famous comedy theater, The Second City – Chicago, and now brings her creative talents to the world of holistic health through her best-selling book, popular podcast, and one-on-one client work. Elle's interview inspires us to relentlessly pursue our passion, regardless of who might say it's unrealistic.
What inspired you to become a holistic entrepreneur?
Dozens of doctors failed in helping me solve my health issues, so I went ahead and solved them on my own – and it worked!
In addition to your work as a coach, you're also a published author and host of the Primal Blueprint Podcast. How would you describe your current business model?
I do one-on-one thyroid, primal health, or life coaching over the phone or through skype.
Your book, The Paleo Thyroid Solution, is a best seller on Amazon, available at Barnes and Noble, and has been praised by such luminaries as Robb Wolf and Dave Asprey. What advice would you give to a practitioner considering writing their own book?
I sometimes mentor other writers on their projects and there is so much advice I could give regarding how to most effectively and efficiently write a book or a screenplay etc…but my main suggestion is:  DON'T EDIT YOURSELF AS YOUR WRITE…JUST BLURT IT ALL OUT in terrible grammar, terrible spelling, etc. and THEN GO BACK AND EDIT much later.  People start writing and then get caught up on the first sentence or paragraph for hours…that's a waste of time and draws you away from the overall picture and theme of whatever you are writing.  Spit out THE THOUGHTS/INFO OUT IN YOUR OWN WORDS without judging or editing exactly how those thoughts are conveyed.  You can go back later and clean it up.
What are some of the biggest challenges you have faced in running your business?
None so far, it's been easy and seamless!
What were some of the first mistakes you made that you would tell a new holistic entrepreneur to avoid?
I honestly can't think of any mistakes – my main advice would be:  Don't pursue anything in life that you are not passionate about doing…if you pursue something just because you think it's a profitable business idea or because you would be good at it – that's not a recipe for success because you will still be searching and yearning for something you LOVE to do.  Pursue what you LOVE, and the money and success will follow.  Doesn't mean you shouldn't have another job on the side while pursuing those dreams, but keep pursuing what you love.  I can't even count the number of times people who have told me that pursuing a career in writing, public speaking, or acting was an unrealistic pipe dream – well, I guess they were wrong:-).  Just keep going, despite what naysayers tell you…use the negative energy of naysayers and nonbelievers-of-you to fuel your determination to be successful.
What has been the best piece of advice you've received as an entrepreneur?
My mother had a few quotes that are applicable to every area of life: "Be careful how you treat people on the way up…or you might see them on the way down." and "Take your mouth with you." (Meaning, SPEAK UP!)
What is your morning routine?
Wake up, express gratitude while still in bed.  Set an intention for the day.  Get up, drink a couple of glasses of water and then have a cup of coffee or tea while sitting with my thoughts in silence before I open my computer and get involved with the outside world:-).
What is your favorite indulgence?
Spa excursions – facials and massages.
Most exotic thing you've ever eaten?
I have eaten brains, bone marrow, alligator, but I accidentally ate humpback whale once at a restaurant that was later closed because they used whale without telling people.
Most memorable place you've ever visited?
Palau, Micronesia. Africa.
Last book you read?
I re-read (for the 3rd time) The Intention Experiment by Lynne McTaggert
If you could only have one kind of food for the rest of your life, it would be…
Japanese cuisine
What is your go-to breakfast?
I am rarely hungry in the morning and rarely eat a full meal.  I will have either: 1 cup of chicken bone broth w/ either whey protein or collagen powder (plus a little grass fed butter), OR sometimes I will just have half of an avocado sprinkled with Hawaiian red salt.
What do you love most about being an entrepreneur?
I am so grateful for the freedom to do whatever I want, WHENEVER I want – it is a dream come true!
Elle Russ is an Author, Show Host, Life Coach and Actor based out of Malibu, California. You can find out more about Elle by visiting her site, http://www.elleruss.com/