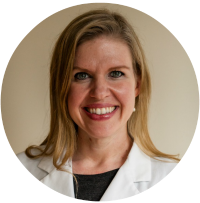 After dealing with her own health concerns and realizing that the prevailing standard of care wasn't helping her, Dr. Melanie Keller decided that if she was going to see results, she was going to have to take action herself. Now, Melanie is a Naturopathic Doctor providing medical services to those seeking expertise in the underlying cause of irritable bowel syndrome (IBS), small intestine bacterial overgrowth (SIBO) and other gut microbial dysbiosis conditions. Her interview inspires us to niche down into a specific target market, and to follow our passion by keeping up-to-date in our specialized field of care.
What inspired you to become a holistic entrepreneur?
It was my own health concerns that led me on this career path. I've had passion with research and discovery in the field of health from a very young age. I had the unique opportunity of being raised in southeast Alaska. My family was in the commercial fishing industry and I was exposed to the Tlingit native Alaskan culture and herbalism. I was an AFS exchange student and spent a year in Switzerland where I was exposed to a highly functioning country and citizens who found prevention vs. cure to be most important. In the US, the prevailing standard of care never helped me. I realized that if I was going to see results, I'd have to take action myself.
When it came to my undergraduate degree, I was on the 10 year plan and then I was faced with the reality of a salary cap by continuing to work for someone else. While working 60-80 hours a week as the director of education at a massage school, I started taking a 12-week business course for new business owners through the state's small business development center. I realized my proposed business plan relied on a physician to prescribe massage, so I decided to become the doctor!
Tell us about your business.
My business provides educational and medical services to those seeking expertise in the underlying cause of irritable bowel syndrome (IBS), small intestine bacterial overgrowth (SIBO) and other gut microbial dysbiosis conditions.
How would you describe your current business model?
1:1 in-person and virtually.
Can you share any strategies you've found to be particularly effective for growing your client base?
A marketing coach right out of medical school said, pick 3 things you're really good at and / or love to do. That helped me be more clear in my conversations with people when asked, what do you do? Or, what do you specialize in? There are ways to become known for something specific that can then be expanded from once people know who are and / or what you are about.
What are some of the biggest challenges you have faced in running your business?
A few years ago, not many people had heard of SIBO and I had a wait list of people to be seen as a patient. Now, my business has to compete against everything from a probiotic to big name doctors or even a health food store clerk.
How have you overcome those challenges?
I've become more specialized. There is always more to learn. That is one of the main reasons I became a doctor. I enjoy keeping up-to-date in my areas of interest. It just so happens, I've been ahead of the target when it comes to the future and I appreciate the colleagues that have recognized my unique way of thinking. This has brought me speaking opportunities that are ultimately priceless!
What were some of the first mistakes you made that you would tell a new holistic entrepreneur to avoid?
I wasn't, and still am not, a fan of social media. I do what I can and look forward to hiring someone to teach me yet ultimately handle the bulk of it soon!
What has been the best piece of advice you've received as an entrepreneur?
A colleague helped me get around my hang-ups with offering virtual services and I am forever grateful.
What is your morning routine?
I usually wake up by 6AM, have a cup or two of coffee while I review social media (I'm learning!), then I'll do some 'tapping' following a transcript from the Tapping Solution for Financial Success & Personal Fulfillment, followed by a power walk with the dog.
What is your favorite indulgence?
A margarita with salt
Most exotic thing you've ever eaten?
Ostrich
Most memorable place you've ever visited?
Glacier Bay, Alaska
Last book you read?
The War of Art: Break Through the Blocks and Win Your Inner Creative Battles by Steven Pressfield
If you could only have one kind of food for the rest of your life, it would be…
Pizza, Here in LA there's Z-Pizza and they use the best ingredients Non-GMO, grass-fed mozzarella, etc. their gluten free pizza is the best!  
What is your go-to breakfast?
Some kind of convenient bar, my current favorites are the apple BoBo's bites and the ginger lemon Thrive bar by GoMacro.  
What do you love most about being an entrepreneur?
FREEDOM! Everyday I am so happy and grateful that I can provide for myself and an employee.
Dr. Melanie Keller is a Naturopathic Doctor based out of Los Angeles, California. You can find out more about her and her business, SIBO Solution!, at www.sibosolution.com