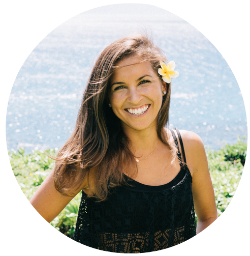 After growing increasingly frustrated with doctor after doctor dismissing her symptoms and recommending yet another prescription for the decade-long battle she had faced with her own health challenges, Amie turned to holistic nutrition and began her true road to recovery. After becoming a Nutritional Therapy Practitioner herself, Amie began creating online courses and now helps others pinpoint and address root causes of such health issues as adrenal fatigue, acid reflux, acne and weight gain. Her interview inspires us to build our audience through consistency, and to harness the power of social media and networking.

What inspired you to become a holistic entrepreneur?
After struggling with an eating disorder, depression, and digestive problems for nearly 10 years; I became extremely frustrated with Doctors dismissing my symptoms and only recommending more medication. I started to do my own research and became very interested in holistic nutrition, specifically how I could start healing my body through food and lifestyle. Once I became educated about what was going on in my body, and made the connection between nutrition, mental, and physical well-being – I finally started healing. I felt like I had discovered the "answer" that could help tons of people, and I knew that I wanted to share it.
Tell us about your business.
Rebelle Nutrition is all about going against the conventional nutrition standards (low fat, diets, etc.) and focusing on eating real food, listening to your body, and treating yourself with love.
How would you describe your current business model? 
I started out seeing clients 1:1 in person and via skype, but quickly discovered that this business model was not only draining, but not scalable or likely to reach the amount of people that I wanted to help. Now, I create and sell online courses with my business partner, Andrea Nordling, another NTP. Our online courses help to pinpoint root causes of different health problems like adrenal fatigue, acid reflux, acne and weight gain – and address them through daily videos, worksheets, weekly support calls, and nutritional/supplement protocols.
Is there a certain strategy you've found to be the most effective for growing your audience?
Besides consistency, the number one way I've been able to build my audience is through being my own cheerleader. I am constantly reaching out to other nutritionists and influencers in my niche, asking them if I can guest post for them, be on their podcast, write an article for them, or collaborate in some way.
What are some of the biggest challenges you have faced in running your business?
Running an online business as a not-tech-savvy person definitely has its challenges. But if I've learned anything, it's that if you want some thing bad enough, there is ALWAYS a way to figure it out! I don't allow myself to have any excuses to why I "can't" do something. There is always a way, I just have to figure it out.
How have you overcome those challenges?
I am always willing to invest in the areas that I do not excel at. For example, when I first got started, I invested in an online course that taught me how to do all the difficult tech stuff (website building, webinars, email marketing, etc) on my own so I didn't have to rely on other people.
How do you find new clients?
I don't work with 1 on 1 clients anymore, but I do drive traffic to my courses and products through social media, networking, guest posting, webinars, and valuable free resources on my website.
What have you found to be most effective in securing new clients to sign up for your services?
Harnessing the power of social media! I love doing social media challenges that are related to my course topic, and that give people a small win. They are a great way to get more people involved, and act as free marketing!
What were some of the first mistakes you made that you would tell a new holistic entrepreneur to avoid?
Don't try to be everything to everyone – get super specific and find your niche! When I first started, I blogged about every single topic I could think of. This didn't set me apart in any specific niche, and I was basically shouting into the void of thousands of online voices. Picking a super specific niche and sticking to it positions you as the expert, and starts to build a loyal following.
What has been the best piece of advice you've received as an entrepreneur?
"Everything is figure-outable" – Marie Forleo
What is your morning routine?
One of the best parts of working for myself and creating my own schedule is rarely having to set an alarm. I sleep until I feel rested which is usually around 7:30am, then I do some quick stretching, journaling and intention setting for the day, followed by breakfast in bed (not as glamorous as it sounds, I live in a tiny house – ha!). Then I start work for the day! 
What is your favorite indulgence?
Massages!
Most exotic thing you've ever eaten?
Octopus
Most memorable place you've ever visited?
Venice, Italy
Last book you read?
Lucky Bitch by Denise Duffield Thomas
If you could only have one kind of food for the rest of your life, it would be…
Sushi
What is your go-to breakfast?
A low-sugar smoothie bowl : frozen berries, collagen peptides, frozen greens, and spirulina topped with coconut flakes and local fruit.
What do you love most about being an entrepreneur?
Being able to travel the world and work from my laptop is the best feeling in the entire world.
Amie Tollefsrud is a Nutritional Therapy Practitioner based out of Lahaina, HI. You can find out more about Amie and her business, Rebelle Nutrition, by visiting www.rebellenutrition.com