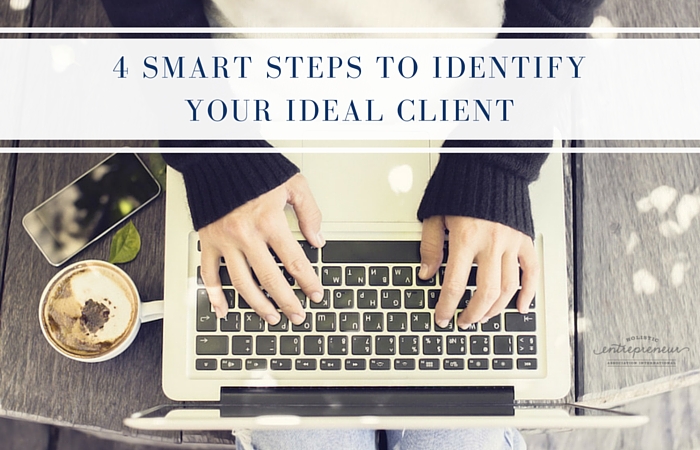 By Elinor Cohen, Search Engine Optimization Expert
All your marketing efforts should start with knowing your ideal clients. No exceptions. It does not matter what you want to bring into the world, how you are going to share it, or any other factors.
Understanding your ideal target clients is all that matters. This will give you a clear purpose and sense of direction. If you have no idea with whom you want to work and whose life you want to change, your brand message will not be heard, your marketing will be ineffective and you will find it difficult to grow your business.
I cannot stress how important this step is. Most business owners miss this critical step. Instead, they jump right into creating content, marketing themselves and promoting their business. If you want to work with your dream clients, at your dream rates, on your dream schedule, then you need to know your ideal clients well.
Below you will find the step-by-step process I use to teach my clients how to get a strong sense of who they want to serve.
A Guidebook to Your Dream Clients
The 4 step process you will follow is:
Define Your Client's Personas
Target Relevant Keywords
Create Content Ideas
Client Discovery
I wish I could tell you this process is simple and linear. Unfortunately, you will find yourself going back and refining these steps.
You may decide you want to work with less-demanding clients. Maybe you will want more clients who understand your family commitments, you may want to shift your business in a new direction – one that you are more passionate about. As you evolve, your business will evolve and so will the clients you will want to attract. It is perfectly normal and common for a business to go back and refine the definition of an ideal client.
Step 1: Define Your Client's Personas
A client persona is a fancy way of saying your customer's character. To attract your dream clients you need to understand what their fears, hopes, and dreams are. What keeps them awake until 3am in the morning? What do they secretly desire the most?
For example, I know that my clients want to create a business and a life they are passionate about. One where they just wait for someone to ask them what they do for a living.
My clients want to experience work-life balance. They are frustrated with the slow-growth or stale business. This is not what they thought business would be like when they started. They stay awake wondering if they are good enough to make this work.
Your buyer personas may also include demographic information such as age, gender, and marital status. But I find the information about their thoughts and feelings so much more valuable.
You can create personas Google Analytics data, participating in social media groups, and reading Amazon or Google reviews. But my personal favorite is asking your dream clients 4 questions.
Once you have a good idea of who your dream client is, you need to target and develop the language of your clients.
Step 2: Speak Your Client's Language
The next step is to find the language your customers use and how well it will drive traffic to your site. You can do this through Google's Keyword Planner.
First, start with a seed list, a list of about 10 to 20 keywords you think your clients might use. For example, I target women who believe in the power of manifestation. They want to learn how to apply this practice to their business. An example keyword that would be on my seed list is manifestation.
Using Google's Keyword Planner, I will look for other relevant keywords that my client might use. While searching through keywords, you should target long-tail keywords like "How I start practicing meditation" as opposed to keywords such as "meditation". Long-tail keywords bring better-quality traffic and are easier to rank in Google search results.
Google creates a nice report showing you the search volume for each one of your keywords. This will guide you about which keywords are important. General keywords tend to have higher search volumes, but may not be the right keywords to target right away.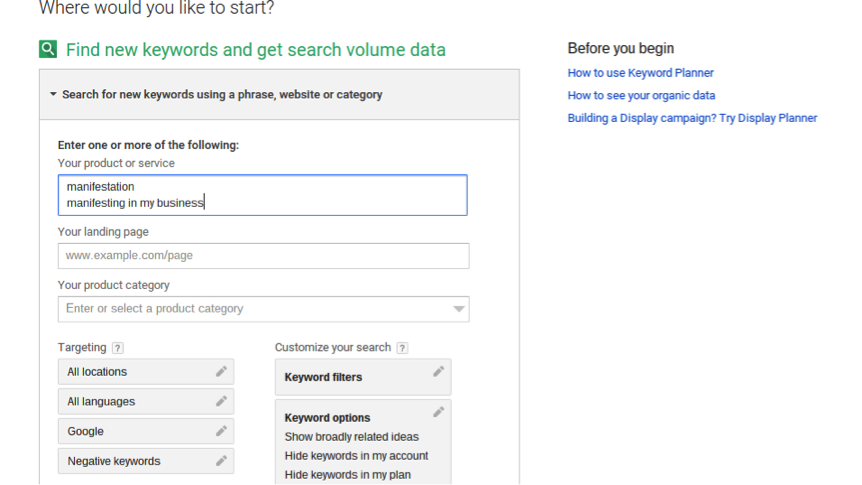 Someone who is searching for "meditation" may be in the beginning phase of her search or is conducting research for a paper. This type of keyword will tend to have higher search volume, but much of the traffic will be useless.
People who search "How do I start practicing meditation" may be looking for a guide to help them get started. This type of keyword will tend to have much lower search volume but will bring you qualified traffic. If someone landed on your website from a long-tail keyword and you offered a mini-guide on how to start meditating, you will gain more sign-ups to your list or potential new customers.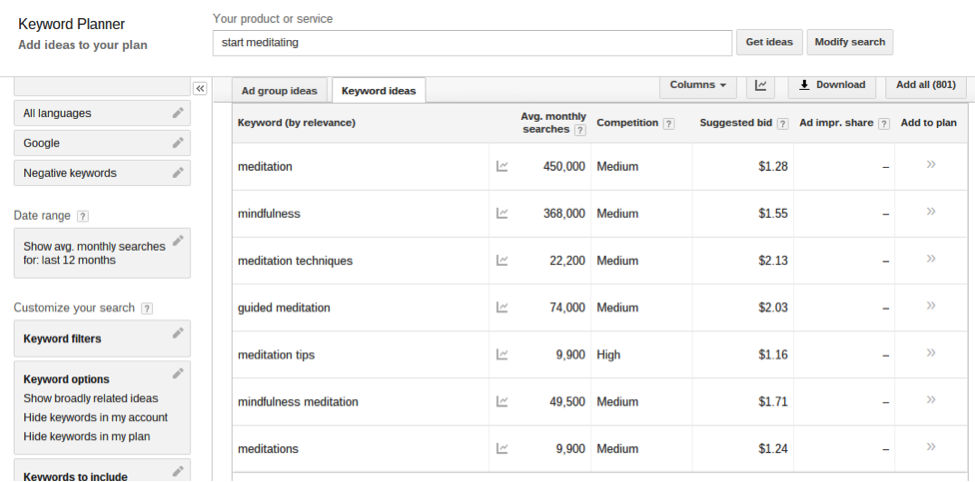 ** Note: in order for you to use keyword planner you will have to sign up for Google Adwords.
Step 3: Creating Content Ideas
Once you have your keywords and the language your clients use, you can find popular content. You will use content performance tools, such as Buzzsumo, to generate popular content ideas. Using popular content you can find the pains of your clients, what they desire and how to meet those desires.
Simply type your keyword in the search bar and a list of popular topics gets generated.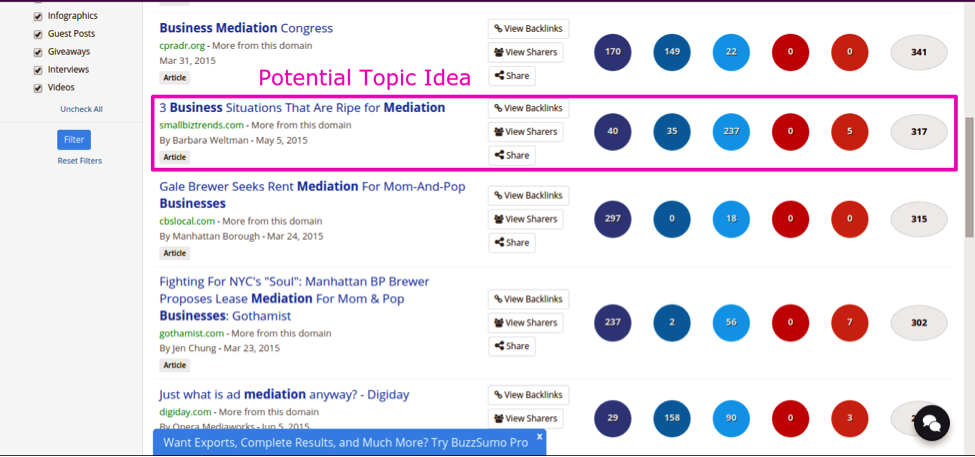 You can then filter these topics by a specified time period to find the most relevant content. If you work in a quickly evolving industry like I do, then this feature is critical.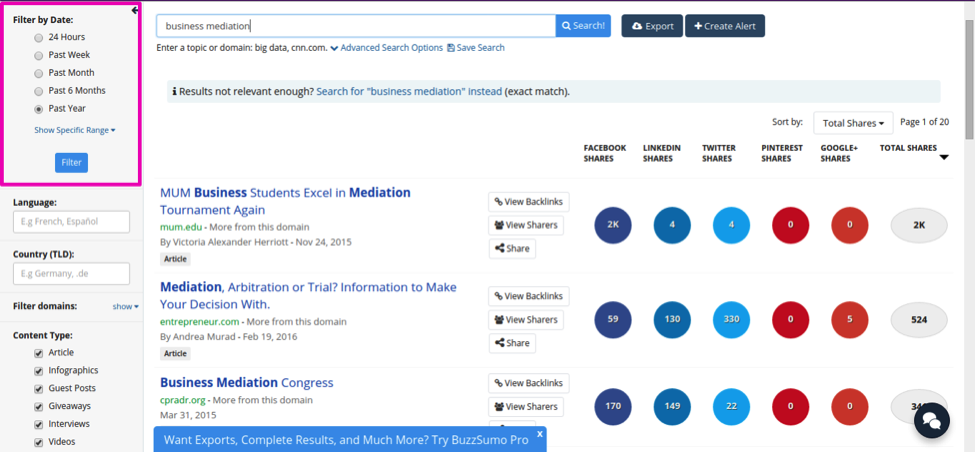 A free account is limited to the amount of searches, but you can sign-up for a two week trial, which should be plenty of time for you to find popular content.
Step 4: Client Discovery
Up to this point, much of the research you have done probably felt like guesswork. That's okay. We are going to test all of that in this step. In this next step you are going to refine your personas, their language, and the content they want to read.
There are several methods you can use to do this, but it boils down to talking to real people who fit your dream clients closely. If you are targeting people with similar interests, education, or profession, then chances are they gather in some community somewhere.
You can find your dream clients through Facebook Graph Search by using search terms such as: "favorite interests of people who like [a page name]", "pages liked by people who like [a competitor business name]", "places in [your city] visited by people who like [your page]" or hashtags.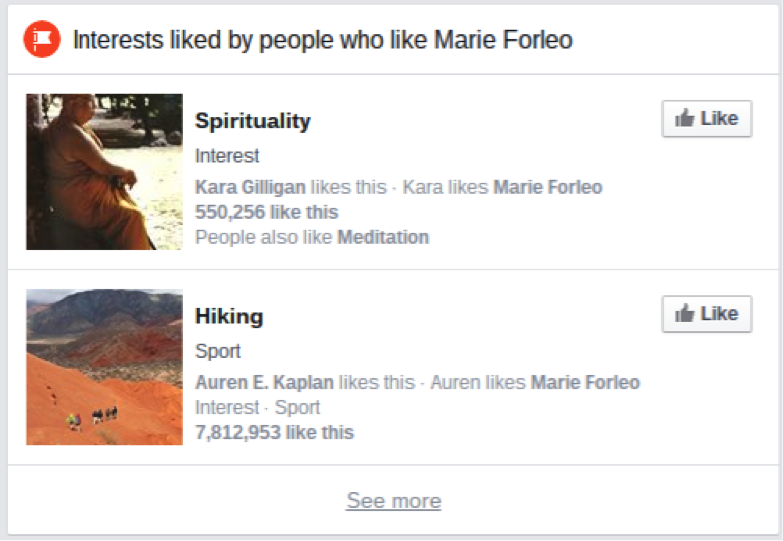 When you use variations of these search terms you will be able to find where your dream client hangs out, the pages they like, and the groups they visit. Once you know the groups, you should join them, find the topics that are discussed along with the solutions that are provided. Take a week or two to get a feel for the group. Do not participate yet. After you have a general idea of how the group works, begin answering questions that are posted in the group.
For example, if someone asks how to cure a common cold with acupuncture, do not send them a link to your service page. Give a valuable answer. As you participate in the group, measure the impact of your content and answers. At this point you may have to jump back to step-one.
Try to schedule an interview with someone in the Facebook group to learn about their fears, hopes and dreams.
A second method for refining your client personas is by using Instagram, specifically a broad and narrow range of hashtags. For example, if you are a local massage therapist outside of New York City, you might use hashtags such as, #massage, #deeptissue, or #NYC.
Instagram does not allow you to search multiple hashtags so you will have to find a work around. In the Google search bar type site:instagram.com #hashtag #hashtag2.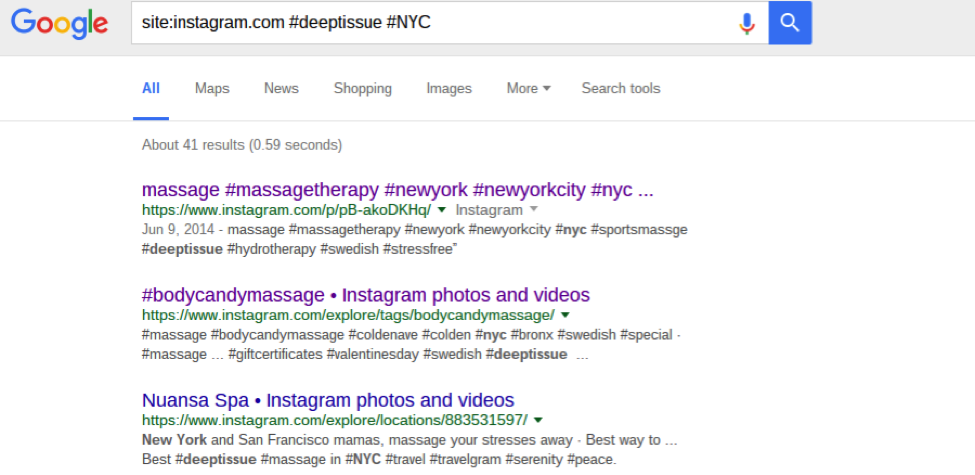 Search through the posts and see what people are posting, sharing and saying. Carefully note who is posting and the content of their comments as well.
Now you should have a better idea of your dream client. You should be able to create an effective marketing strategy for becoming more visible and positioning yourself as an expert by solving your customer's problems. This process is not a one time thing. In fact, I schedule time in my business to regularly do this.
This will go a long way in helping you work with your dream clients. It will help you get better results for your marketing and content creation efforts. You will gain a clear sense of direction. You will know what type of marketing to use in order to work with your ideal clients.
What kind of clients do you want to attract to your business?
If you want to get a visual, printable PDF of the above tools, please sign up here.
About the Author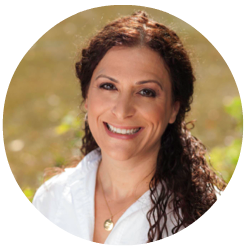 I founded The Just Me Company in order to help you intelligently take control of your customer acquisition strategy, guide you while you attract customers to your site, so that you will have a clear understanding of how digital marketing works. After a 9 year journey of hands-on work in SEO, Paid Search, Social Media and Email Marketing for others, I have decided to take all of this knowledge in order to teach soloprenuers how to manifest their businesses online in the same way.
I'm here to help the Business of YOU take a leap forward and become search-savvy and smarter about your website. I am currently working on several group coaching programs to help business owners learn the ins-and-outs of search engine marketing and social media.
I am here to hold your hand and walk you through on how to optimize your digital footprint step-by-step! Please visit my website: www.justmecompany.com for more information or email me with any questions at: Elinor@justmecompany.com
Hope to see you in search results soon!
Xx,
Elinor  Cohen