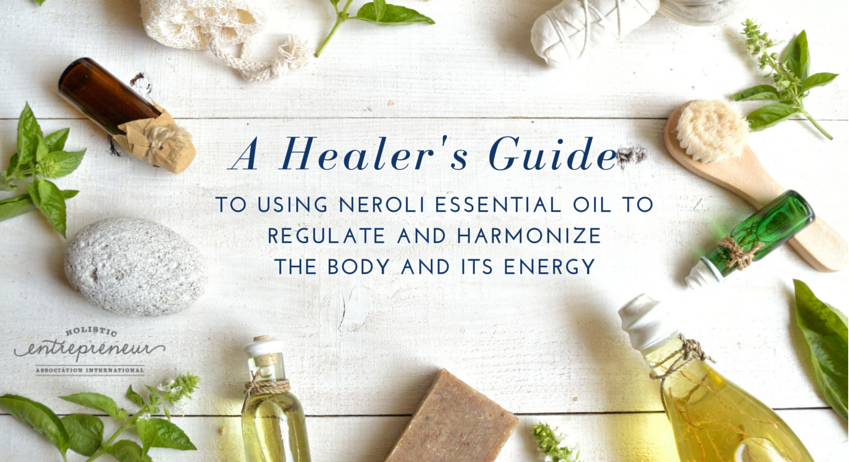 By Wendy Johnson, Certified Aromatherapist
Reaching for my time worn bottle of Neroli is like reaching for a piece of sea glass, polished and smoothed by the tides, comforting to hold and familiar to touch. Neroli's bright fresh floral scent instantly creates a gentle heart connection, increases creativity and produces a liveliness that resonates with my body to bring me into a place of calm. This allows me to be present to the surrounding situation and my place in it.
As many of you are healers, entrepreneurs and powerful manifesters of energy I am sure you know what it feels like to have energy fluttering, moving or (sometimes most noticeably) stuck in the body. It can be uncomfortable, causing sensations of physical pain, feelings of anxiety or fear. At other times this energy can be so activating you feel like a star going supernova, where ideas and actions are happening fast. These feelings and emotions can move from being manageable and fun one minute to painful, stagnant or out of control the next.   In these situations Neroli shines like a guiding light, a gentle leader who shows us how to gather and soothe this energy so that it can be positively directed into strategies that help manage the overload.
Before I talk about some simple yet highly effective ways to use Neroli essential oil I want to share a few guidelines to ensure your safety and enjoyment of using Neroli and all other essential oils.
Knowing the botanical name of a plant and the plant part being distilled is crucial in positively knowing that you are using the correct form of the plant that is used in Aromatherapy. Another reason to understanding which botanical species of the plant you are using is that it helps you to understand the plant better. Knowing a plants history; its growing environment, origin and traditional use attunes you with the plant's healing values and guides you to know what that plant has to offer. Thinking of these things also bonds you with appreciating the plants and how valuable they are to our ecosystem and our health. Considering these factors when using essential oils greatly increases your connection with them and your potential for healing.
The Neroli essential oil we use in aromatherapy is the product of steam distillation of the flowers from the Bitter Orange tree (Citrus aurantium). Interestingly Petitgrain essential oil and Bitter Orange essential oil are also distilled from the Citrus aurantium tree however Petitgrain oil comes from the leaves and branches of the tree and Bitter Orange oil from the expressed fruit peel. This is a good example of how important it is to know a plants botanical name and plant part being distilled to ensure proper identification of the essential oil.
To produce Neroli essential oil the opened flowers from the Citrus aurantium tree are gathered early in the morning to ensure the greatest oil content in the flowers. The flowers are then steam distilled with the resulting oil being Neroli essential oil. To obtain 2 lbs of Neroli essential oil 1 tonne of flowers needs to be distilled. This is a lot of Bitter Orange flowers, which is why the price of Neroli essential oil is so high.
An affordable and effective way to use Neroli essential oil is to purchase it in a 10% dilution of jojoba oil.
Using a dilution of 10% Neroil mixed in Jojoba oil apply a few drops onto your fingers then massage into your solar plexus region and over your sternum. The application of Neroli to the solar plexus region brings calm, stability and trust to your body because it makes "contact" with your heart region, the area of your body that processes creative and excited energy.
Neroli is also wonderful when used in a bath to help unwind, encourage sleep and alleviate nervous tension that can cause digestive upset, headaches or anxiety. Use 2 TBSP of Epsom salts and add 6-8 drops Neroli 10% (for adults) to the salts. Once your bath is poured and you are sitting in the bath add the Epsom salts mixed with Neroli. If you would like to blend other essential oils to the Neroli to make an essential oil blend try mixing Neroli with Clary sage, Rose, Lavender, Geranium, Jasmine, Rosemary, Ylang-ylang or Sandalwood. Don't exceed the 6-8 drops of total essential oils (in Epsom salts) per bath.
The same essential oil blend that you make for your bath, whether it is Neroli 10% on its own or Neroli 10% mixed with other essential oils, can be used when mixed with a carrier oil like coconut, sunflower or sesame oil. A carrier oil blended with Neroli 10% will create a deeply relaxing skin healing body oil that cleanses the skin from bacteria, maintains the natural pH of the skin, helps to prevent stretch marks and nourishes and regenerates the skin. In 30ml of vegetable carrier oil add between 6-12 drops total essential oil (for adults).
Neroli consistently harmonizes the energy in my body, providing me with greater connection to my heart, which then allows me to be more mindful in the present moment. I believe that it will also help you and your clients to each find your heart connection and harmonize your physical body to achieve a greater state of wellness. The next time you feel lost, confused or overwhelmed, where your energy is all over the place and you are having trouble centering yourself take a moment to "listen" to this confusion in your body. Then apply Neroli (10%) to your solar plexus region and breathe. Notice the calm that settles. Notice the acceptance that you soften toward. Notice the expansion of your heart to greater love. These are Neroli's gifts to you, soft, gentle yet powerful Neroli. May you enjoy and embrace Neroli as you are guided to continue to create the life of wellness and joy that you deserve.
About the Author: Wendy Johnson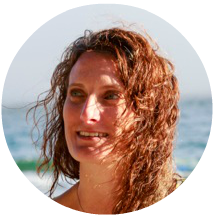 I have been a certified Aromatherapist since 2010 yet my passion for plants and their healing abilities trace back to my childhood following through to studying biology at University and to owning and operating an organic fruit, flower and vegetable farm.
I am the owner and product formulator at Evoke Aromatherapy making organic and wild crafted Aromatherapy products for the everyday wellness of adults, children and babies.
When I am not crafting wellness products I am in my flower and vegetable garden, playing with my 2 children and husband on the beach, stand up paddle boarding or swimming.
Disclaimer
Information provided about products, aromatherapy, or wellness recommendations are for educational purposes only.  The information is not intended to diagnose, treat, prescribe, or cure any disease or health condition.  It is recommended that you consult a health care professional before beginning any wellness program or before using aromatherapy products if serious health concerns exist.  If a condition persists or worsens it is advised that you consult with your physician or health care provider.  Information provided on this website, in blogs, on social media, about the products or from testimonials are not a substitute for direct consultation with a physician or health care provider and is not to be construed as individual medical advice.
Further Reading
Evoke Aromatherapy Blog
http://www.evokearomatherapy.blogspot.ca
For more information on safety in Aromatherapy please see the National Association for Holistic Aromatherapy webpage.
http://naha.org/explore-aromatherapy/safety
References
http://en.wikipedia.org/wiki/Bitter_orange
https://www.auracacia.com/auracacia/aclearn/eo_neroli.html
http://www.naturallycurly.com/curlreading/ingredients/the-regal-heaven-scent-neroli-and-orange-blossom-oil/